Scott L. Satterfield – translation of 'Bamboo Rill' by Tang Shunzhi
NOVEMBER 20th 2017
竹溪记
予嘗遊於京师侯家富人之園,见其所蓄,自绝徼海外奇花石无所不见,而所不能致者
惟竹。 吾江南人,斩竹而薪之;其为園,亦必购求海外奇花石,或万钱买一石,千钱
买一花,不自惜;然有竹据其间,或芟而去焉,曰 【毋以是占我花石地】,而京师人苟可致一竹,辄不惜数千钱;然遇霜雪,又槁以死。以其难致而又多槁 死,则人益贵之;而江南人甚或笑之,曰【京师人乃宝吾之所薪】!呜呼!奇花石诚为京师与江南人所贵;然穷其所生之地,则绝徼海外之人视之,吾意其亦无以甚异於竹之在江以南。而绝徼海外,或素不产竹之地,而使其人一旦见竹,吾意其必又有甚於京师人之宝之者,是将不胜笑也。语云 【人去乡则益贱,物去乡则益贵】。以此言之,世之好醜,亦何常之有乎?
予舅光禄任君,治园於荆溪之上,徧植以竹,不植他木。竹间作一小楼,暇则与客唸啸其中;而间谓予曰【吾不能与有力者争花石之胜,独此取诸土之所有,可以不劳力而蓊然满园,亦足適也,因自谓竹溪主人,甥其为我记之】。
予以谓,君豈真不能与有力者争,而漫然取诸其土之所有者;无乃独有所深好於竹,而不欲以告人歟?昔人论竹,以为绝无聲色臭味可好,故其巧怪不如石,其妖豔绰约不如花,孑孑然有似乎偃蹇孤特之士,不可以谐於俗;是以自古以来,知好竹者绝少。且彼京师人亦豈能知而贵之,不过欲以此鬥富与奇花石等耳。故京师人之贵竹,与江南人之不贵竹,其为不知竹一也。君生长於纷华,而能不溺乎其中;裘马僮奴歌舞,凡诸富人所酣嗜,一切斥去;尤挺挺不妄与人交,凛然有偃蹇孤特之气,此其於竹必有自得焉;而举凡万物可喜可玩,固有不能间也歟!然则虽使竹非其土之所有,君犹将极其力以致之,而后快乎其心;君之力虽使能尽致奇花石,而其好固有不存也。嗟呼!竹固可以不出江南而取贵也哉
吾重有所感矣!
Bamboo Rill
I have strolled in the gardens of the capital's titled and wealthy, and seeing what is collected there – not one rare plant or stone from distant borders across the seas is lacking – only the bamboo cannot be had. We south of the Yangtze cut bamboo for kindling; for the garden we also purchase rare plants and stones from abroad, some spending countless sums for a rock, a fortune to buy a single flower, all without regret. Yet if there is bamboo standing in the midst some would hack it away saying, "This will not occupy my bed of flowers and stone". But if in the capital people are able to obtain a single bamboo, then the sum of several thousands is not regretted, ever knowing that upon the first frost or snow it will wither and die. Men greatly prize the fragile and unobtainable, yet those from the south would even mock them saying, "So the people of the capital prize our firewood". How sad! Rare plants and stones are indeed prized by those of the south and the capital, but were their place of origin plumbed and men from those distant borders across the seas look upon them, I believe they would think those less wondrous than the bamboo south of the Yangtze. And in faraway lands across the seas perhaps no place grows bamboo, so I believe those strangers upon suddenly seeing bamboo would invariably prize it more greatly than those living in the capital, and both would laugh without end. It is commonly said, "A man away from home is worthless, a thing away from home is precious". In view of this, how can there be constancy among people's likes and dislikes?
My uncle, a gentleman holding the Guanglu position, cultivates a garden on the banks of the Jing stream, everywhere planting bamboo and not other trees.  Among the bamboo a small pavilion is set to pass moments of leisure with guests reciting verse and singing within. On occasion he spoke to me,  "I can not strive with those of influence in the surpassing of plants and stone, yet only by gathering what is native to this place I need not labor and my garden flourishes thusly; I am complete. In this way I am styled Master of Bamboo Rill. Nephew, you should write down such words for me".
I replied, "How in fact are you unable to compare with the influential by conveniently gathering what is native to the land? It is not that you alone have a deep affection for the bamboo, but rather are unwilling to pronounce so to others? Long ago men discussed the bamboo, considering that being void of pretty color and fragrance it was not liked; and as its wondrous strangeness is unequal to stone, and its guiling beauty and charming delicacy unequal to the flower, yet it stands forth as a gentleman of pride and independence, aloof from the vulgar. In this, from antiquity to the present, an absolute few have known how to appreciate the bamboo.
And those of the capital, how can they understand and value bamboo, merely wanting to use it as they would a rare plant or rock to vie in display of wealth? Thus as people from the capital prize it, and people south of the Yangtze  denigrate it, their failure to understand the bamboo is one and the same. You sir, grew up surrounded by sumptuous circumstance and are able not to become dissolute in its midst; fine clothing, stables, squires, maidservants, singers and dancers, all those things many wealthy men greatly desire you deny;  especially do you steadfastly refuse reckless intercourse with others. In manner stern, aloof and unique, for this do you take pleasure in the bamboo, and all those many things that men fancy and like cannot by nature stand among the bamboo! Even if bamboo were not native to this place, you sir would do utmost to gather it here and then take pleasure in it;  you, sir, by might can gather together strange plants and stone yet your pleasure would not be found in their midst.
How sad! Before, the bamboo could not be taken from the south but taken now because is it prized. I have thoughts upon thoughts on this.
~
SEP 4th 2017
陋室铭
山不在高,有仙则名。水不在深,有龙则靈。斯是陋室,惟吾德馨。苔痕上階绿,草色入帘青。谈笑有鸿儒,往来无白丁。可以调素琴,阅金经。无丝竹之乱耳,无案牍之劳形。南阳诸葛庐,西蜀子云亭。孔子云,【何陋之有?】
刘禹锡
A Mean Abode
It is not how high the mountain, if there be spirits within fame follows. It is not how deep the water, if there be dragons within wonder follows. In this mean abode, only my self graces it. Traces of moss cover the steps green, grass shows green through the hung screen. The learned are here for talks and laughter, no unlettered folk come and go. I can play simple melodies, read the scriptures. No strings or flutes troubling the ear, no papers tiring body and soul. Here is as famous men of integrity passed simple lives in mean places far apart.*
So did Confucius ask, " In what manner is this mean?"
*As Nanyang's (Henan) Zhu Gelu and as distant Shu (Sichuan) in the West, Yangze's pavilion.
~
SEP 1st 2017
1.
雪の時間
深雪に埋めつくされた苅田は見知らぬ国の原
降り積んだ雪に記憶の風が
吹き寄せ吹きだまりができる
斜面ができる
さらに雪が降りさらに風が吹き
やがて像の耳がかたどられていった
いま おさない象が群れからはぐれたのだ
はぐれた象のために
吹雪はひそかに胴体の輪郭を描いていった
さらに雪は降りさらに風は吹き
胴体のつづきに長い鼻の輪郭を描いていった
ああ やっと
低い声で助けの信号を送りはじめたのだ
しかし 風は吹き荒れ雪を舞い上げ
やっと伸ばした鼻を消し去り
胴体を消し去り
耳のかたちひとつだけを残した
谷間の川面から吹き上げる風が
ほうほうと身をよじり
象とたわむれているのだ
だが 聞く耳ひとつあればいい
わたしは ふと自分の耳に触ってみる
わたしの一番深いところでねむっている無数の耳
忘れている耳
はぐれたわたしの耳のために
吹雪はやがてわたしの耳をかたどり始める
そのように雪は降りつづき
そのように風は吹きつづけ
Snow Time
The bare paddy field buried in deep snow is an unknown field
The wind of memory blows over the piled snow
The snow drifts
The snow slides
Some more snow falls, some more wind blows
And the drift is shaped into an elephant ear
Now a young elephant has strayed from the herd
For the stray elephant
the snowstorm slowly begins to draw his body
Some more snow falls, some more wind blows
Following the body the snowstorm outlines the trunk
Ahh- finally
a distress signal is sent out in a low voice
But the wind roughens and blows up the snow
the painstakingly stretched trunk is erased
the body is erased
only one ear is left
The wind blows, ho ho, from the river surface
in the valley twisting
and playing with the elephant
You know, though, one ear to listen is enough
I now touch my own ears
A countless number of ears are asleep
in the deepest place
The forgotten ears
For my stray ears
the snow storm begins to mold my ear
Thus some more snow falls
Thus some more wind blows
~
 2.
カヤパの庭
今夜、鶏が鳴く前にあなたは三度わたしを知らないと言うだろう マタイ二十六章
ゆうぐれの窓から
ぼんやりと椿の花を見続けると
心の底までのぞき込まれていると思う日がやってくる
赤い花の芯にとらえられ つつぬけにのぞき込まれてしまう
誘われるままに樹の下をくぐり敷石を横にたどり裏口から
あの人が裁かれているというカヤパの中庭に入る
大祭司カヤパの庭にも椿の花がいっぱい咲いていて
わたしが葉と葉の間から見ていると
「何をいっているのかわからない」と一番弟子の男が否んだ
二千年前の炭火が赤く燃え 裏切るもの死刑を望むもの
しもべや女中が集まっていた
またしても「そんな人は知らない」恐れて誓う声がした
遠く波打つガリラヤの湖から一匹の魚が泳ぎ去った
わたしが赤い花をのぞくと 男の涙がこぼれそうだった
こんなところに誰がつまずく石を置いたのだろう
三度目の声がまたしても
「その人のことは何も知らない」と言うと
追い打ちをかけるように女中が
[この人はナザレ人イエスと一緒だった]と言った
それはわたしの声だった わたしはそこにもいたのだ
静かなゆうぐれに包まれると椿の花がまっ赤に咲いて
ぼんやりしていると 鶏が鳴いて男は外に出て激しく泣く
いつのまにか二千年はあっけなく過ぎて
そのまま赤い花の形をして地面に落ちるものがある
罪も弱さもそのまま受け継いで
わたしはカヤパの庭を行ったり来たりしている
Caiaphas' Courtyard
Verily I say unto thee, that this night, before the cock crow, thou shalt deny me thrice Matthews 26
Out of the window of twilight
I gaze blankly at the camellia blossoms
There comes a day the camellia sees
through to the bottom of my heart
Caught by the core of the red blossom
through and through I am seen
Being led I stoop under the branches
and step into Caiaphas' courtyard from the back gate
where he is said to be judged
The high priest Caiaphas' courtyard is also
filled with camellia blossoms
I watch from the space between the leaves
He denied, saying, I know not what thou sayest
Two thousand year old charcoal burns deep
who betrays and wants death
a crowd of servants and maids gathered
And again he denied with an oath, I do not know the man
A fish swims away from the far away heaving lake of Galilee
I look inside the burning
and see his tear about to overflow
Who left a stumbling stone, here?
For the third time I hear the voice, saying, I know not the man
Another maid said unto them that were there,
This fellow was also with Jesus of Nazareth
That was my voice;
I was there, too
Camellias, wrapped by the dusk, open their crimson petals
I am lost in thought; the cock crow, and the man goes outside,
cries out
Unnoticed, two thousand years have passed
Unchanged, something in the shape of a red flower
falls onto the ground passing on
Sins and weaknesses
I go to and from Caiaphas' courtyard
~
3.
オブジェ
かつて 父たちが植林し造林につとめた杉山に分け入っ
たことがある 天に垂直なその杉の木に絡みついたカズ
ラを切るのだ きつく巻きついた紐状のものを力ずくで
引っ張る 細い毛根がびりびりと剥がれる 引きながら
解きながら木の周りをぐるぐる回る 解くと締めつけら
れた跡がケロイドのようだ
わたしは 解いたカズラを束ねて 一つの輪に編んで行
く 最初の輪につぎつぎ絡ませ 縄目を作り隙間を埋め
ながら 偶然にゆだねてオブジェを作る 壁掛けを作っ
ていく 隙間には野の花と杉の実とカモガヤの野を飾る
と 朝と夕を加え小鳥も加えることになって ドライフ
ラワーの壁掛けとなる やがて乾いてくるとピソンの川
もユフラテの川も流れはじめる 浅瀬の葦の間にきのう
誘われた聡い蛇のことばを置く これがわたしの園であ
る それを玄関に飾る 誰にも気づかれない わたしだ
けのオブジェの中で わたしは いまだエバのままであ
り 出る時も入る時も 魂のありかをとわれつづけてい
るように思う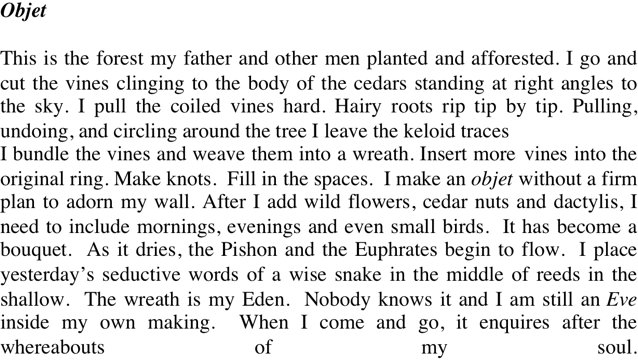 (Miho Kinnas's translation of an essay by Akira Kisa, Where Bibliobattles Are was published in Asian Literary Journal Cha in June, 2017.  More poems by Ikuko Tanaka in translation can be found at Poetry Kanto.)
~
MAY 26 2017
Todd Boss attends to how a poem happens. Hence, Motionpoems emphasise movement and kinaesthetic action. His work is also about facilitating meaningful encounters with art[1]. "Constellations" is no exception.
An emphatic voice gives chase to an elusive and energetic star, but only manages to catch a glimpse of it. An apostrophe, short but forceful.
The poem attempts to capture a sublime encounter with a single gesture, somewhere between the impermanence of a shooting star and the constancy of a constellation. An encounter so elusive and fleeting, we can only gesticulate about with language.
To translate this poem on its terms is to appreciate its inherently performative nature—a mimesis demonstrating the temporal nature of an aesthetic encounter. Something that can only be performed, but not fixed, with words. Something impossible without an intimate reading.
An adequate translator is foremost an adequate reader. Reading is more than just understanding the signification of words, but also how they dance and contribute to a dynamic whole. Imagery, form, rhythm and rhyme. These are some of the poetic elements that require breaking down and reconstruction in the target language. Reconstruction because there is no natural or necessary equivalence between languages and their respective cultures. Translation is reading is rewriting.
The original has a lot of style. We have on page, a river of words gushing with too much force. A voice breaks the surface, now and then, when it can; the tone imploring, and desperate. Words are ejaculated, spat in passion. These exclamations are followed by long dashes of silence—as the voice succumbs to the drag of undercurrent emotions precariously balanced between ecstasy and hysteria. The lines of the poem look like an afterimage, a blur of motion. Just like an encounter with the ephemeral.
The river of words flows east, and arrives at a place where they can drop vertically down. In Chinese, words can cascade and fall. Much like stars. They are also complete and whole on their own, not just an assembly of letters. They now hang better in the sky; this being one of the low-hanging fruits. I hang the words up like stars, and build a constellation. Joining them dot-to-dot, I trace their intractable paths in this alternate linguistic universe, probing for my reclusive rocket.
Reclusive rocket. How does one ignore the sweet sounds of alliteration? I took the bait. More than just a falling star, I add the sense of a lone ranger travelling through endless space. Alone. Aloof. I allow some words to break out from the safety of the constellation, with one that ends up alone. Empty. Drawing nothing.
I ask myself if this is too much, but decide no. After all, Boss writes for the displaced[2].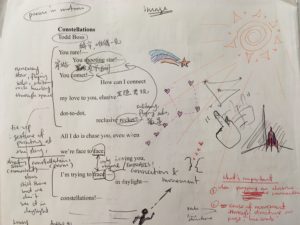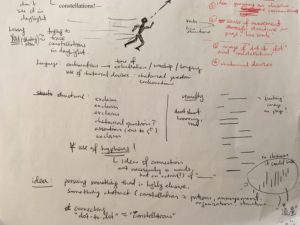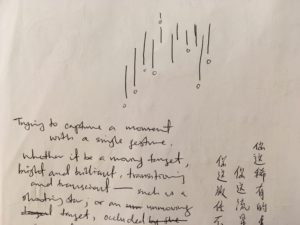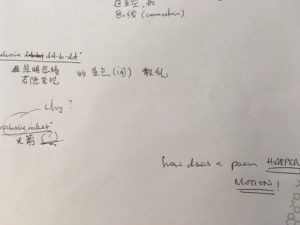 _____
~
MAY 22 2017
Lian Hai Guang is currently a postgraduate at Nanyang Technological University's (NTU) Masters of Translation and Interpretation (MTI) Program, located in Singapore. He can be reached at lianhaiguang@gmail.com.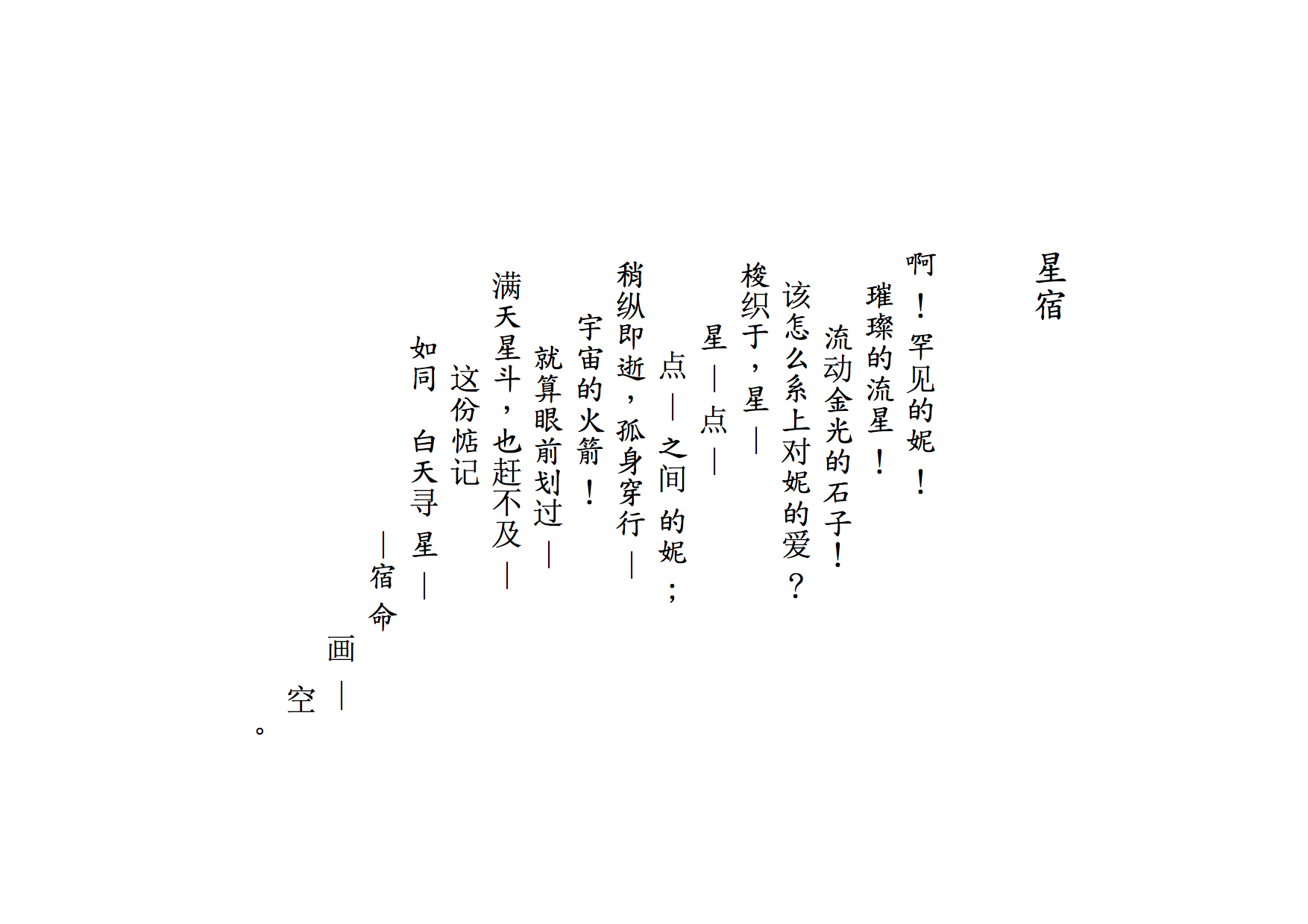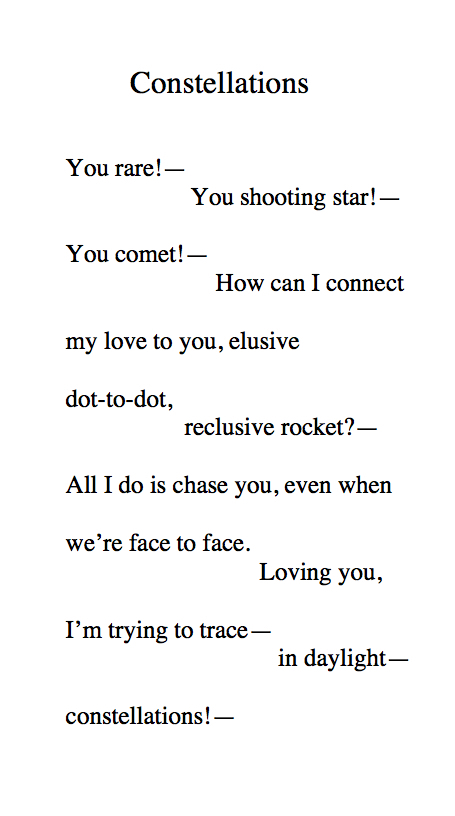 – Todd Boss
~